Faulkner is Preparing Students for Global Opportunities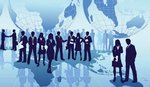 T. L. Faulkner Career Technical Center offers 13 different career programs. Each class is designed to teach hands on training as well as the academic side of the course. The following is a list of the courses we offer: Automotive Technology, Collision Repair Technology, Computer Technology, Cosmetology, Child Care, Electrical Technology, Healthcare Science Technology, Graphic Arts, Masonry, Carpentry, Heating & Air Conditioning, Welding and Teaching and Training.
Faulkner CTC has been a part of the Mobile County Public School System since 1974. We serve students from the following high schools: Mary Montgomery, Blount, Vigor, Leflore, Williamson and Murphy. All students are transported by bus to and from Faulkner. We have two sessions so that students can attend either in the morning or afternoon, according to their schedules.

At Faulkner we strive for excellence in each area of our programs. Students who apply themselves will succeed to be a completer and can use this training to apply for employment in the workforce. Some students are offered jobs, internships, apprenticeships and scholarships to further their education.

At Faulkner we want all the students to be prepared for Global Opportunities!