At Faulkner we strive for excellence in each area of our programs.
Students who apply themselves will succeed to be a completer
and can use this training to apply for
employment in the workforce. Some students are offered jobs,
internships, apprenticeships and scholarships to further their education.
At Faulkner we want all the students to be prepared for Global Opportunities!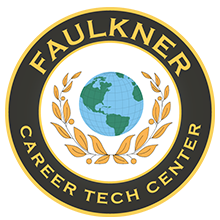 Faulkner Career Tech Center's programs are:
Automotive Technology

Aviation
Carpentry and Cabinet Making

Collision Repair Technology

Computer Electronics Technology

Cosmetology

Electrical Technology
Graphic Arts

Health Science

Heating, Ventilation, Air Conditioning & Refrigeration

Masonry and Trowel




Teaching and Training

Welding Technology